Reinglen's "A" Litter
The Lexi x Roman litter were born on the 14th Jan 2013
Merjuke Obsidian Princess of Reinglen (Lexi) has had her first litter to Merjuke's Warrior (Roman). The puppies were born on the 14th Jan 2013 and will be ready to go to their forever homes from the 11th March 2013.
Merjuke Obsidian Princess of Reinglen (Lexi) is topsize, level back with a sound temperament she has Kennel Club Good Citizens Dog Scheme Puppy, Bronze, Silver and Gold awards.
This is Lexi's first litter
BVA Hipscores 6/6 = 12
Merjuke's Warrior (Roman) is a very handsome black dog he has a level topline/straight back and has produced level-top lines and straight back to European showline females.
Hipscore is 4/4=8, BVA Elbow score total 0 and haemophilia tested clear.
Puppies from this mating have a coefficient of 0.0%
A full mating health summary for Lexi and Roman can be found Here.
The puppies are black and tan and pure black and are suitable for; obedience, agility, working trials, and of course lovely family pets.
Our puppies were born and are being reared in the house, so will be used to all the usual household sounds and smells. They will come with puppy packs. Puppy Pedigree(PDF)
Some pictures and videos of the puppies and Lexi can be found below (click on the pictures for larger versions) more pictures of individual puppies can be found by going to their individual page by clicking on the links below.
Reinglen's Dark Warrior (Rama)
Reinglen Midnight Warrior (Gibbs)
Reinglen Myth And Magic (Jasmin)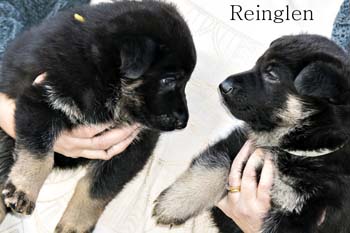 Kassi playing with her new friends