Reinglen's "H" Litter
Gabriella's Pride and Joy of Reinglen (Kassi) has had her fourth and final litter to Projays Omen (Mav). She only had one black and tan male and has now been spayed. The puppy was born on the 17th July 2018.
The puppy is sold.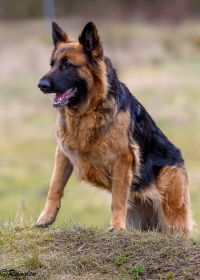 Gabriella's Pride and Joy of Reinglen (Kassi) is medium size, black and gold long coat bitch with a sound temperament she has Kennel Club Good Citizens Dog Scheme Puppy, Bronze, Silver, Gold and Platinum awards. She was also in the semi-final for the good citizens qualifier for crufts 2014, she was joint 5th best adult long coat bitch UK in 2014.
BVA Hipscores 7/4 = 11
Elbows 0
Degenerative Myelopathy N/N

Projays Omen (Mav) is a Super male Represented GB with his owner/handler John Monaghan at the FCI IPO world championships in 2017. He also came 5th in the "GSDL Working Dog Group National Championships" last year 2017. He was 5th in GB with a score of A89 B81 C85. Here is an extract from his breed survey:-
He is a very social and super confident young male with incredible nerves, stability and super clear headed with very balanced prey drive and fight drive. Also in his work he is very powerful and show lots of aggression with full calm powerful grip. Excellent conformation, very strong head and bone strengths
Breed report: Good medium size, medium strength, good alert expression, normal withers, good top line, good croup position but should be a little longer. good forward and rear angulations, Good chest proportions, male shows good powerful movement but the forward reach should be more free. Tsb pronounced.
BVA Hip scores 5/6 = 11
Elbows 0/0

Pedigree Database
Working Dog EU
Puppies from this mating have a coefficient of 0.2%
A full mating health summery for Kassi and Mav can be found Here.
Our puppies are born and reared in the house, so will be used to all the usual household sounds and smells.
The puppies will be KC reg, vet checked, wormed, micro-chipped and come with 5 weeks free insurance and a puppy pack (advice sheets, food, toy and a blanket).
A blank copy of our sales contract can be found Here
Pictures of the puppy can be found by going to his individual page below.
Reinglen's Murphy (Black and Tan Male)